Updated 1/1/08
---
Welcome
---

Footprints in the Sand has been seen in print by people the world over since the late 1940's. All that time no author has been credited with this immortal work, only 'Author Anonymous' has appeared at the bottom. This web site was created to bring to light the story behind 'Footprints in the Sand' and its author
Mary Stevenson (Zangare)
.

For many years handwritten copies were distributed by Mary to those who needed something to give them comfort at a low point in their lives. It was sometime after this that friends of Mary saw it in print and wondered why she wasn't given credit for writing it. An attorney at that time told her that it would be very hard to prove her the author since it had been used by many publishers of religious materials and greeting cards. Mary wrote 'Footprints' in 1936 when she was very young and knew nothing of copyrighting. Discouraged she didn't pursue it any further.
In 1984 while cleaning out the garage to prepare to move from her house, in a small suitcase, among her other poems, she rediscovered a very old
handwritten copy that she thought was lost. It was one of the copies Mary had made and dated 1939, just three years after she wrote the original. Later that year the U.S. copyright office awarded her a copyright for 'Footprints in the Sand' 48 years after it was written. It was another 11 years before her handwritten copy was authenticated by a forensic specialist as to its age. Margaret Fishback-Powers and many others have tried to falsely claim authorship, but none can show significant proof such as this.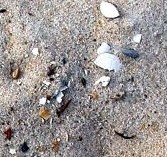 Visit the Footprints Forum, a place where people exchange experiences, thoughts and ideas about how 'Footprints in the Sand' has affected their lives and what the poem means to them. Also, I would like to encourage visitors to submit letters of how the poem has impacted their lives that we will post, so they may offer inspiration to others. Suggestions to improve the site are welcomed.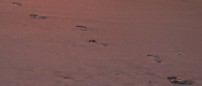 Browse through and explore the site as much and often as you like. Changes will be made frequently while it's in its early stages. Tell your friends and family about us or feel free to send a link to them.
---
Vistors since May 3, 2003